30.10.06
Posting video: Photobucket
I tried Google video (
see my previous efforts
at Motime Oct. 17) but find Photobucket easier. Just sign up and then decide to upload photos or videos. After uploading, generate the html code and paste it to post. Here is a test I just made: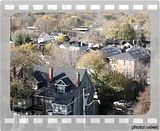 I have to learn to change the settings in my camera to make lighter videos. Mine take too long to upload. There seems to be conflict posting Google videos when Blogger already has Bubbleshare albums: the albums disappear and then re-appear when Google videos are taken out.
20.10.06
Using picturetrail to make a photo cube
I discovered this site where a cube can be created with one´s own pictures. Here is how it is done: 1) go to
http://www.picturetrail.com/
, 2) sign up, 3) go to "manage photos", 4) create album, 5) name album, 6) click on "upload photos" (you can upload 5 at a time). The pictures will take some time to upload depending on how heavy they are and internet speed connection. I particularly dowloaded 3 at a time. 7) click on "create a photoclick" on the right side of the screen, 8) select "acrobat cube", 9) click "continue" at the bottom of that window, 10) select the 6 photos you want in the cube ... wait patiently while the cube is created ... 11) select size and opacity (solid or transparent) , 12) copy the html code at the bottom of that window, 13) paste it in a new post in your blog and you will have your personal photo cube. Here is a sample. Enjoy!
16.10.06
Sabbatical blues
I have not posted a
nything on this blog in a long long long time. Many changes going on, the main one being that I will be in Toronto until July 2007 as a visiting professor at UofT during my sabbatical leave. At the moment I am participating i
n two graduate courses and two seminars, reading lots of material and sharing experiences with a
n amazingly interesting multicultural, multiracial and multilingual community. So what´s wrong with me? Why do I feel so blue ... ?
For one, I have abandoned Blogs, Wikis, Podcasting and Videos. I just follow some discussions in the Webhead Community where I lurk whene
ver I can. My most active cyberfriends have progressed tremendously as shown by their contributions to the group and the quality of their sites. I thank them for their continuous generous support and ever kind words of encouragement ... Uhhhh, I have a lot of catching up to do.
Recently I came across a blog by a fellow university
professor on sabbatical
, mj, who described exactly the uneasiness I have had for the past month, a feeling of not doing enough. "There are good days and bad days, even on sabbatical" she says and her word of wisdom is "sabbaticals aren't that different, at base, from ordinary life ... there are the same number of productive and unproductive days as before". I hope too high expectations don´t make me lose track of my goals and end up spoiling a once in a lifetime opportunity.